The countdown to Halloween has officially begun, and the spooky time of year is a fun one in Northern Ireland. No matter who you are, there is plenty of things to do across Northern Ireland at Halloween, from family-friendly activities to adult-only events. If you are looking for the best Halloween events Northern Ireland has to offer, look no further!
For Everyone
The Scarecrows Night Walk
Hillsborough Castle is inviting you to take a walk on the dark side at their spooky illuminated gardens. Scarecrows will come to life after dark, scattered throughout the gardens. Are you brave enough to find them all?
Get creative and visit in your costume for the chance to win a prize for best dressed, and indulge in something deliciously warming from the cafe to calm your nerves.
"Working with Cahoots NI Children's Theatre Company and Lumiere Events, the Scarecrow Night Walk through our historic gardens is a thrilling family-friendly adventure that you won't forget."
Boo at the Zoo
Belfast Zoo is hosting a weekend full of mischievous merriment for all the family, with a range of eerie activities, including:
petrifying pumpkin-decorating
freaky face-painting
spooky slime-making
enchanting animal meet and greets
terrifying touch tables
You can even watch the zoo animals tuck into pumpkin activities of their own as they enjoy some hall-zoo-ween enrichment at feeding times!


Climb up to the TreeTops Cafe, where you can enjoy a refreshing Dale Farm ice cream or pick up a Pear Picking Porky while you're there!
Crumlin Road Gaol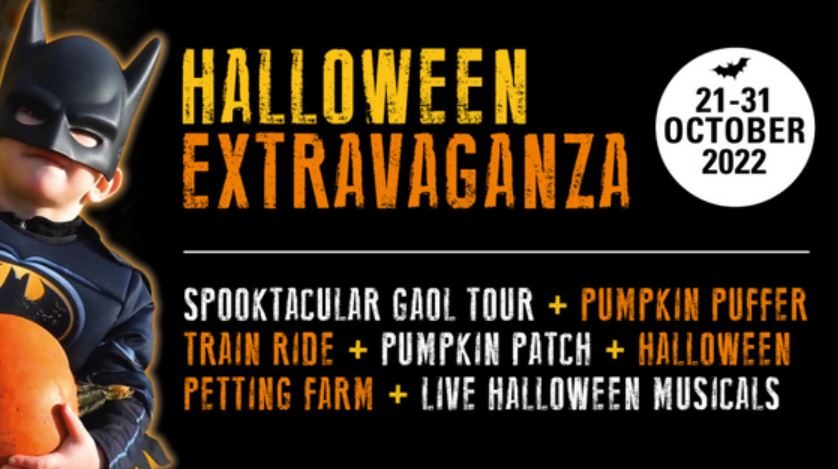 Crumlin Road Gaol invites you this Halloween to their most Spooktacular Halloween Event for Children of all ages and adults!
The Halloween Extravaganza includes a Spooktacular Gaol Tour, Pumpkin Puffer Train Ride and the main attraction – The Pumpkin Patch! You can also visit the Petting Farm and meet all the farmyard friends before finishing your fun-packed day at our Live Interactive Halloween Musical, where the West End comes to North Belfast!
Why not make your night a little bit sweeter with a spooky scoop or two of Mullin's ice cream while you're there?
Let's Go Hydro
This Halloween Let's Go Hydro has all the spooky activities you could ask for! The Millbank Farm Pumpkin Patch And Spookfest, Halloween Night Fireworks Display -and a Drive-In Cinema!
The Jungle NI
This Halloween season, The Jungle NI has conjured up some delightfully frightful ideas. It welcomes you to the popular 'HALLOWEE'UNS' event, which is specifically for young kids and their families.
During the event, they will enjoy some pumpkin picking and carving, a haunting Haycart Ride with a rather wicked witch who will tell spooky stories along the way and a host of other adventure activities. They will also be giving out prizes for the best costumes, so all types of ghostly and fang-tastic costumes are encouraged.
This event will run on Saturday, 22nd October & Sunday, 23rd October, then Friday, 28th October, right through to Tuesday, 1st November.
Spooky Glen
Halloween at Colin Glen has two events on to keep you entertained this Halloween! Brave a spooky mountain walk through the deep, dark forest to meet your favourite Halloween characters and finish your night with some toasted marshmallows and a spooktacular spectacle from the Jump, Jiggle and Jive dance crew! Located at the Mountain Entrance, 28 Colin Glen Road!!
Visit Ireland's only official Gruffalo Trail to experience this Julia Donaldson-endorsed guided walk with a Halloween twist! Hear the story of The Gruffalo before heading outdoors for a guided walk through our deep dark wood to meet your favourite characters, and even stop by our pumpkin patch, where you'll pick out your pumpkin to carve and take home!
Prison Island Presents Fright Night!
Prison Island Presents Fright Night! Enter the Prison at your own risk, and you might run into some scares! You'll have to keep your wits about you as you attempt to complete the 25 prison cell challenges, all while the ghouls of Prisoners past lurk in the shadows looking to terrify anyone who dares to enter their old cells!
Ulster Orchestra's Halloween Howler
Come along to the Waterfront Hall, Belfast, on Sunday, 30 October, for the Ulster Orchestra's exceptional Halloween Howlerperformance! Celebrate all things Halloween at this spooktacular show featuring music from your favourite scary films and more! Presenter Ryan Hand and Conductor Paul Campbell will bring you on a mysterious journey through some of the creepiest classics, including Ghostbusters, Harry Potter and Hotel Transylvania.
Halloween at Montalto
The Carriage Rooms at Montalto is opening its doors for an enchanted Family Witch's Wander this Halloween.
Pick a pumpkin from our pumpkin patch, and follow your map that will then lead to:
Pumpkin carving
Face painting
Petting Farm
Halloween bird feeder workshop
Spooky shortbread decorating
Puppet storytelling
Kids disco
Glowsticks
Photo opportunities
Access to Trails & Gardens
Halloween Pumpkin Patch Streamvale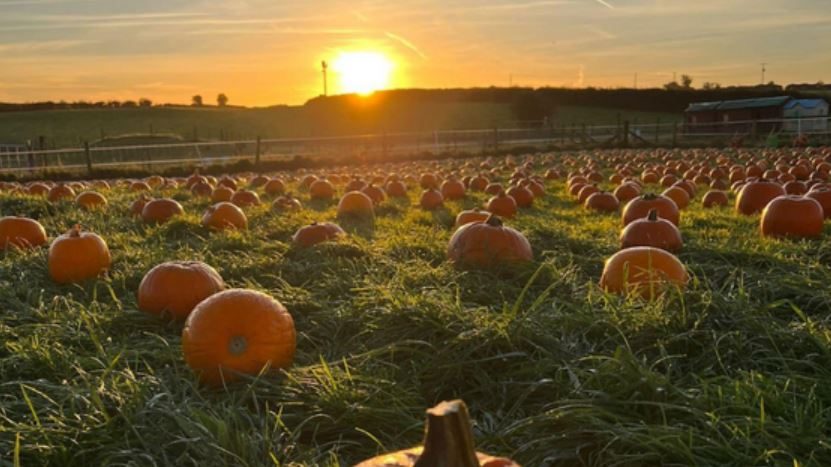 Streamvale pumpkin patch is back with thousands of pumpkins to choose from!

Kids can grab a mini wheelbarrow and go and explore the pumpkin patch.
They can then pick a pumpkin and wheel it back up the field to our designated carving marquee, where the staff will be on hand to help.
Streamvale will design your spooky lantern, and then you can scoop it out.
They will also carve it for you!
Barrel and tractor rides are included, with lots of other animal shows and activities throughout the day!
Get your dancing shoes on at our Broomtastic Disco!
The Spooky Maze is an immersive experience. Follow our trail and meet real-life characters!
PS make sure to pop by daisy's milking parlour while you are there! Tag us in your pictures over on Instagram.
Derry's famed Halloween parade returns
Derry Halloween returns! From 28 - 31 October, the Walled City comes alive with ancient spirits welcoming you to join their Awakening. Fill yourself with folklore, feasting, and festivity as Derry~Londonderry reopens the pathways of the Halloween travellers of the past. There will be a parade and fireworks on Monday, 31 October. Suitable for all ages, this is a great family event.
Adults Only
Todds Leap Horror Nights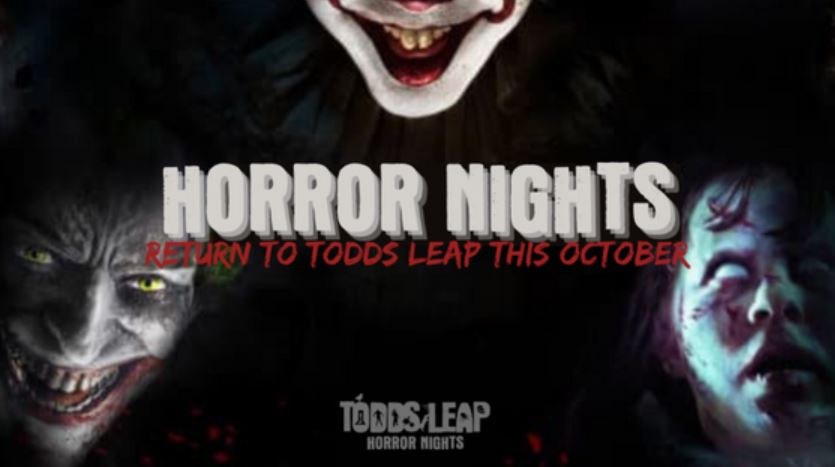 Todds Leap Horror Nights has nightmarish walkways, hellish scare zones, and narrow alleyways as you try to figure out exactly how you will GET OUT!
WARNING: This event may be too intense for young children and is recommended for children PG 15. Halloween Horror Nights at Todds Leap Northern Ireland is a Halloween event scare attraction not to be missed. From Fri 21st until Sun 30th October

Clubland Halloween
Clubland Live returns to Belfast for its biggest-ever LIVE show to date. Saturday 29th October sees the UK's leading dance brand take over The SSE Arena, Belfast, with a Halloween special - 'Dia De Los Muertos' will showcase some of the biggest acts in Clubland, a full line-up to be released soon!
Whether you're looking for a traditional night of trick and treating or a more inventive night of fiendish fun with friends, you'll find plenty to do this Halloween! From Crumlin Road Gaol or Hillsborough Castle's, The Scarecrows Night Walk to family-friendly events for those who aren't quite so daring, there'll be something for everyone to enjoy.
Fancy staying indoors this Halloween? Bring your baking skills to the test and try Jill's apple pie recipe, served best with Dale Farm custard, cream or ice cream.