Welcome to our first blog post! You may have noticed that things look a little different around here, right? Well, that's because Dale Farm has had a makeover and, to be honest, we're all feeling pretty good about it! It's only taken us 50 years!
You see, we're a dairy co-operative – not a big corporate. We're 100% owned by 1,300 local farmers - the Dale Farmers, who work tirelessly every day looking after the dairy cows that give us our great-tasting milk, to create better-tasting dairy! Dale Farm wouldn't be the brand it is today if it wasn't for our dale farmers, so we wanted to put them on our packs to make sure they're the stars of the show.
Every day we share the healthy, happy goodness of dairy with local people and families while supporting the communities we live and work in. It's our mission to share goodness with you every day!
Giving back to local communities
Speaking of goodness... our milk comes from just down the road which very simply means the journey from our farm to your fridge is very short. We're very lucky to come from this small place we call home and after the year we've all had, we wanted to share our Dale Farm goodness across the Island of Ireland and celebrate the people who have gone above and beyond in our local communities.
Our Sharing Goodness Campaign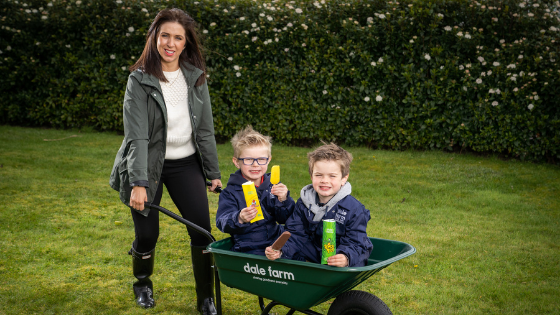 We launched our Sharing Goodness campaign in April 2021. A six-week acts of kindness campaign in conjunction with local mum Caroline O'Neill also known as Digg Mama.
Caroline's son Darragh, aged five, shot to fame after his 'busy man' video went viral at Christmas last year. Caroline has since been an advocate for charity outreach and notably, her "Digg Deep for Christmas" campaign helped to provide those in need, with essentials including hygiene products, heating oil and much-needed products and funding to help them through the winter months.
It was this kind of community spirit that Caroline showed that encouraged us at Dale Farm to partner up with her as our brand ambassador. After a really tough year for everyone, we wanted to uncover all of the heart-warming stories of people in local communities across Ireland, who had gone above and beyond - from healthcare workers, young volunteers and community workers to good neighbours, fantastic farmers and family heroes – and recognise them
With the help of Caroline, we encouraged people to nominate a friend, family member or even themselves and share stories of generosity and kindness. Each week, we picked at least one lucky nominee to receive something special to thank them for sharing goodness!
Week after week we received thousands of nominations and countless good stories and good deeds, making it extremely difficult for us and the O'Neill family to select winners each week. As the weeks rolled on, it soon became clear that kindness really is a language that everyone understands.
So without further ado, it's time to look back at our #SharingGoodness campaign and remember all of the incredibly selfless people who captured our hearts and became our very deserving #SharingGoodness winners!💚
The Winner's Stories
Week One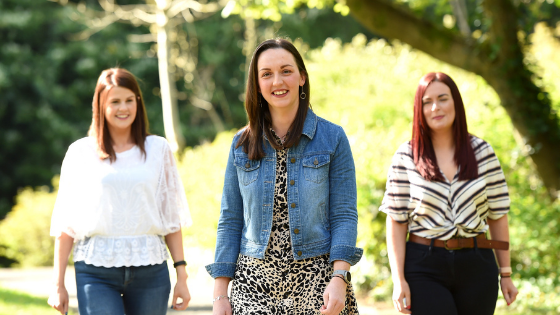 After receiving hundreds of nominations in the campaign's first week, Kerry Devenney from Omagh was chosen as the first winner because of her incredibly selfless story. Kerry tragically lost her sister last November, when she passed away shortly after giving birth to her first-born Lorcan. Kelly stood out as the 'pillar of strength' and 'family hero' for her nearest and dearest at such a heart-wrenching time. Her story was heartbreaking and so emotional to talk about, yet she faced this extremely difficult time with bravery and courage.
The team at dale farm was honoured to send Kerry and her friends to Corick House Hotel for a well-deserved overnight spa break, and a hamper full of dale farm goodies.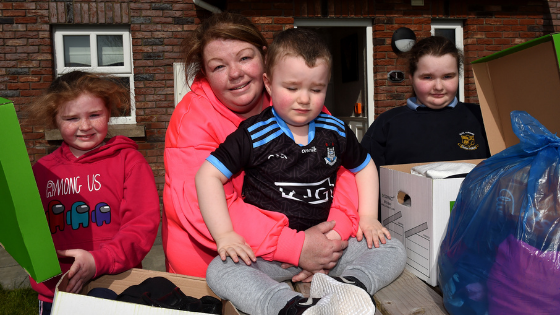 Our second winner was Edel Sweeney from Monaghan. Edel was nominated by her husband to receive a special prize and we couldn't let her incredibly selfless story go unnoticed. Edel works tirelessly to help those less fortunate and goes above and beyond for her local community, including helping supply food and clothes to the homeless.
Putting others before herself is such a generous and charitable act that we could not wait to offer Edel her winning spot. Staying true to herself, Edel wanted us to gift her daughter an iPad, alongside a hamper of dale farm products proving once again she is always thinking of others.
Week Two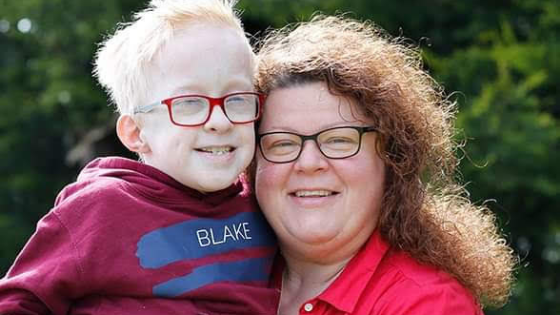 Gastroenterology nurse Tracy Close from Antrim was selected as our week three winner after being hailed a "guardian angel" by one of her patients Blake McCaughey, age 13. After spending two years in the Royal Belfast Hospital for Sick Children, Blake received close care and treatment for a serious intestinal condition. Blake recognised Tracey as his 'NHS hero' for her tireless work in looking after him and training his Mummy and Daddy to manage this procedure in under eight weeks.
We knew straight away that Tracy deserved a much-needed break for her tireless efforts in looking after not only Blake but lots of other special children going through a tough time. Tracy enjoyed an overnight stay at Galgorm Resort and Spa, Ballymena and, of course we could not forget about Blake and his thoughtful nomination, he received a dale farm ice cream hamper to enjoy.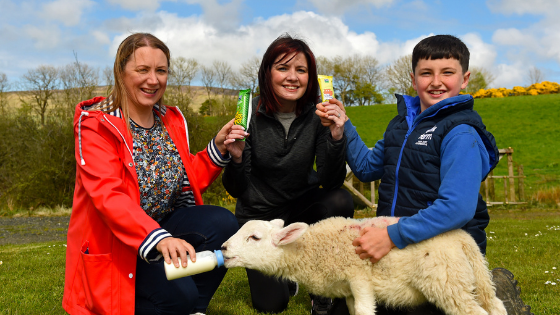 Our second winner of the week was John Og  from County Antrim. John  was nominated by Karen McGahan to receive a special prize. John's mum currently suffers from Cystic Fibrosis and due to this is vulnerable so has been shielding. John, an avid farmer who during lockdown and home schooling was up at the crack of dawn helping on the family dairy farm, managing everything from milking cows to bedding the calves allowing his mum to focus on her health. As a thank you for being so good to others with his kind and caring nature John and his dad received special Dale Farm boiler suits for all of their hard work on the farm, along with some dale farm goodies.
Week Three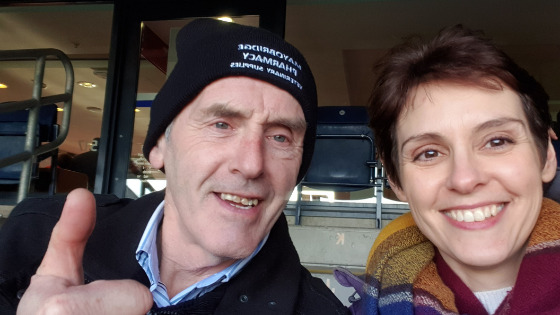 Newry man, "Granda Joe" Parr was selected as a notable winner in week four. Nominated by friends and family, Granda Joe amazed family with how he adapted to life and so many changes during the Covid-19 pandemic.
Joe's daughter Lisa wanted him to lock down with them so she could make sure he was in good health and well looked after but Joe had other ideas! He embraced everything, pottered about his own home, mended ditches, helped his brother build a jetty and a bar down in Rostrevor, daily drivebys to visit his friends who were shielding, building houses, helping isolating family and neighbours, taking part in online Zoom Bingo you name it!
We were delighted to be able to send Joe some branded outerwear so he can continue his hard work in style. At Joe's request, we also delivered some Dale Farm ice-cream to his grandchildren and their schools, St Paul's Primary School and St Patrick's The Meadow, Newry.
Gemma's Legacy of Hope Charity was nominated by so many individuals in the local area of Donegal. This charity was set up in memory of Gemma Boyle, a selfless woman who lost her life to suicide in 2020. In her lifetime Gemma fulfilled and contributed to her local community and through Gemma Legacy of Hope, her hard work continues to serve those in need. A very worthy winner in our eyes.
Week Four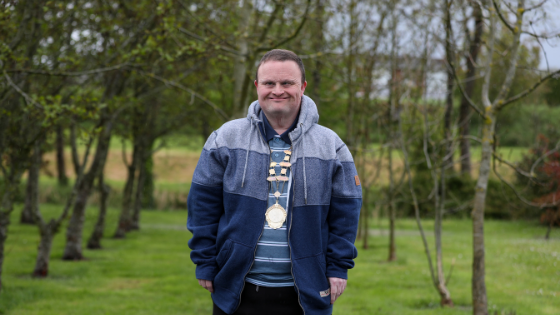 Inspirational Tipperary man Darragh McKenna has sung a song live every day on his Facebook page to bring a bit of joy and positivity to his community. Darragh was chosen as a winner following the heart-warming submission from his friend Martina Cleary.
Martina put Darragh's name forward because of his hard work and thoughtfulness over the past year. "He has been singing a song every day on Facebook since the beginning of the pandemic, he does a concert once a month and dedicates his songs to someone different every day, it's really thoughtful." What a deserving winner Darragh is, of a gift voucher for O'Neills and a hamper of Dale farm goodies!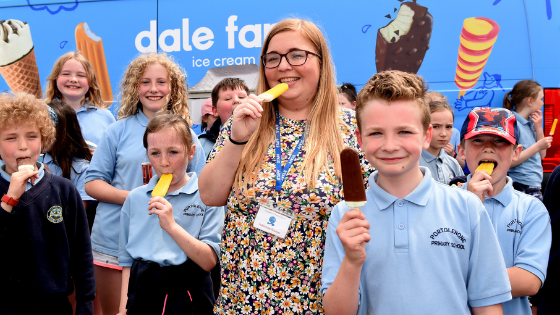 Teachers at Portglenone School were surprised by their nomination from their thoughtful students. While to many, teaching is a job like any other, but to these teachers, their students are continuously at the forefront of everything they do and no more so than during months of continuous homeschooling. Heroes in our eyes. Everyone is delighted to be back together in the classrooms together as school life moves on.
Week Five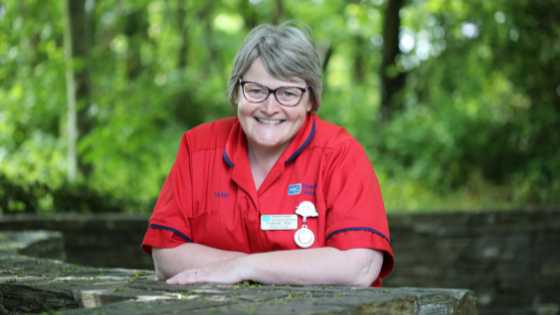 Siobhan Blair, Ward Sister for the Acute Elder Care and Stroke Rehabilitation Unit in Causeway Hospital has been recognised for her tireless work throughout the pandemic, where she has been managing 30 beds in the rehab unit as well as supporting her staff and patients. Colleagues named her as an "incredible manager, full of passion".
We, along with the O'Neill family, were delighted to reward Siobhan for all her hard work and dedication in the hospital, with a Kildare Shopping Village voucher to enjoy at her leisure.
Week Six
St. Patrick's College, Maghera were the well-deserving competition winners when Caroline hosted a giveaway in conjunction with her Instagram page. A big delivery and end-of-term treat came in the form of Dale Farm lollies and ice cream – what better way is there to celebrate!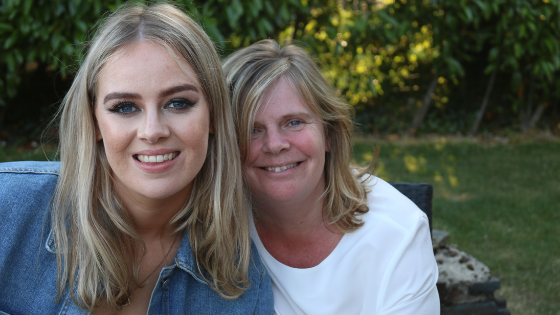 Una Naylor from Wicklow is a former nurse in Wexford Hospital who moved to a new role in a nursing home and has been commended for always going above and beyond for her patients, residents, and colleagues. Nominated by her proud daughter Abi, Una has gone out of her way to support the local community and continues to do so now that she has retired. Una and Abi are off to enjoy a lovely afternoon tea at The Westbury, a great chance for some quality time together.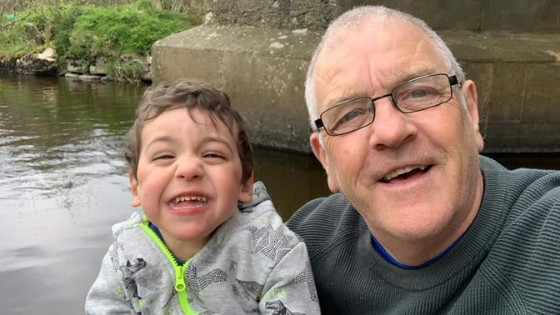 Stephen McCleary from Armagh has gone above and beyond for many in his community. He has set up multiple community groups to aid families, individuals and businesses and over the years Stephen has set up Men's Shed, a place for men to go for support and advice. He also raises money for charities close to his heart and his story touched our hearts. As a thank you on behalf of everyone Stephen has helped, we at Dale Farm are honoured to offer Stephen an overnight stay at Killyhevlin hotel and lodges for a relaxing break.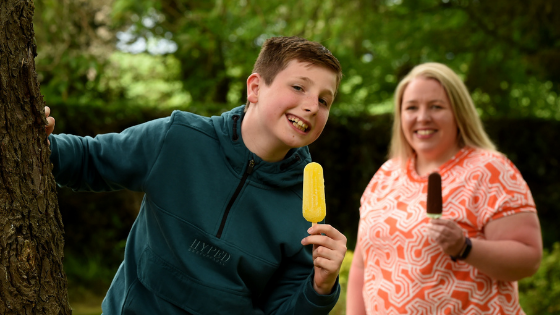 Last but not least, we had Michael O'Callaghan aged nine. Michael is from Derry and spotted two homeless men while out having a walk with his mum and proceeded to take the £10 he had in his pocket and buy the two men food and a hot drink. As a thank you from us we treated Michael to a day out at Belfast Zoo and dinner on us!
From teachers and nurses to community workers and family heroes, from Tipperary and Wicklow to Tyrone and Antrim, we want to thank all of our winners for #SharingGoodness. We've loved hearing all of the incredible stories and we're proud to have such a wonderful dale farm community – remember, a story about goodness is a story worth sharing!🥛