Ice cream sundaes are the most amazing thing ever - decadent, indulgent, excessive, and utterly delicious. Although there isn't just one ideal ice cream sundae, the whole family will love our DIY ice cream sundae bar!
What Is An Ice Cream Sundae?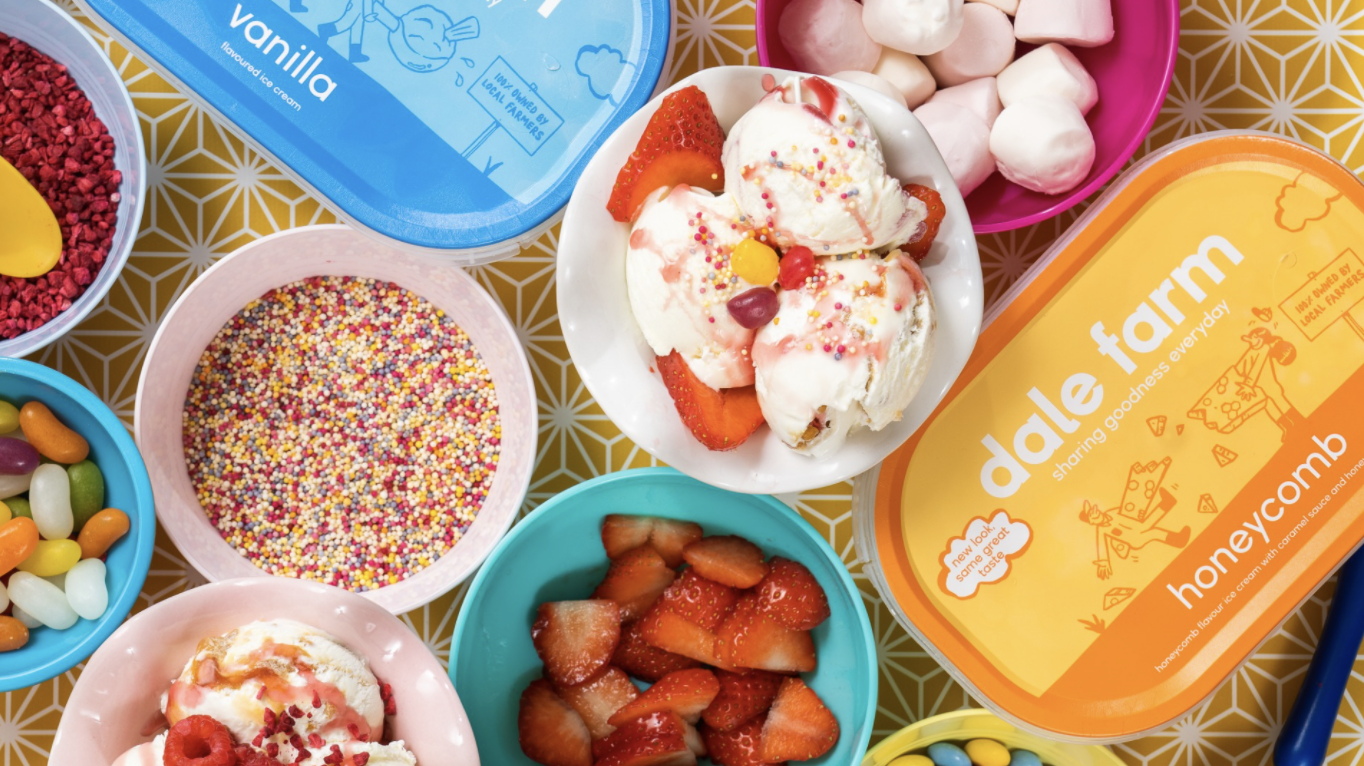 Ice cream, fruit, nuts, cream, sauce, toppings. An ice cream sundae is pretty much ice cream living its best life. It might be a classy, delicate sundae with sauce sprinkled on top and a juicy cherry for decoration. It can be an interactive dessert with everything from candy floss to slices of cake on top.
Making an ice cream sundae is quite easy. You have two options: either carefully follow a step by step recipe or simply add whatever you want. We advise having three components for your sundae: the base, the sauce, and the toppings. They could be better off working together… or possibly not.
To start, you want to grab a sundae glass. Pour the sauce into your glass, then add three or more vanilla ice cream scoops (three scoops is classic, but you do you). Over the top, generously drizzle your favourite sauce.
The squirty cream is then applied as much or as little as desired. You can use the traditional squirty cream, but if you like double cream, then go for it. There are no set standards in this case; some people prefer a light, airy cream. As the crowning achievement, embellish with your preferred toppings and then garnish with the classic cherry!
Ice Cream Sundae Bar Recipe
There's nothing more fun for dessert than an Ice Cream Sundae Bar! Trust us, the whole family will have a blast while making these!
Ingredients You Will Need:
Ice cream sundae glasses
Small bowls for your toppings
Ice Cream Scoop
Spoons
Ice cream sauces
Your favourite toppings
How Do I Organize My Ice Cream Sundae Bar?
Set out your toppings in small bowls or mason jars
Set out the sauces for the ice cream
Have your sundae glasses lined up in a row
Pre-scoop the ice cream or designate an ice cream scooper
Place spoons in a mason
Erin's Dale Farm Inspired Sundae Bar!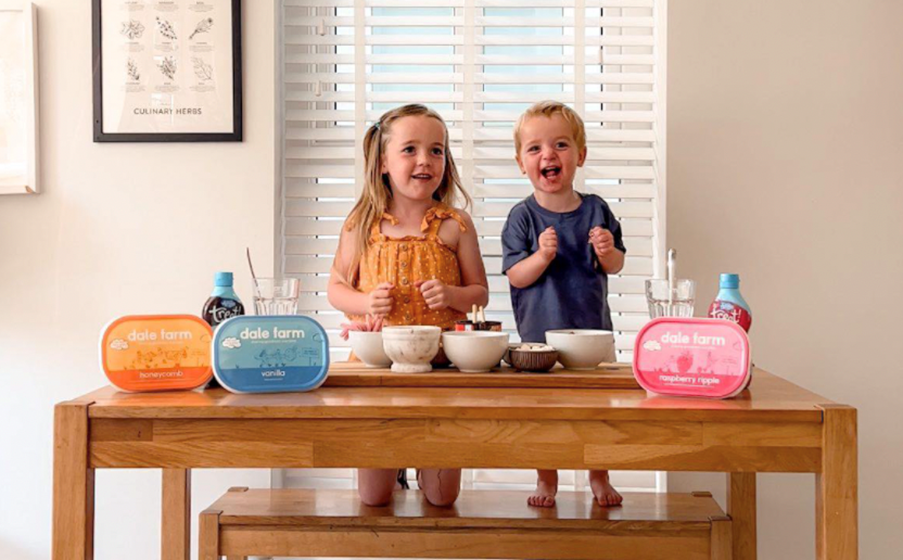 We tasked our brand ambassador, Erin Small to create her very own ice cream sundae bar for the kids; and they came up with two creative ice cream sundaes; the nutty ninja and sweet summer splash!
For the nutty ninja, you want your ice cream sundae to be as chocolatey as humanly possible. To start, take your favourite chocolate sauce (or nutella will work here) and pour all over the glass. Next, take some Dale Farm vanilla ice cream and pop two scoops in your sundae glass. Now it's topping time - take some crushed kinder bueno pieces, some chopped nuts and tuck in!
For the sweet summer surprise sundae, you better like sweets! Take some strawberry sauce and pour over your sundae glass, then take two scoops of Dale Farm raspberry ripple ice cream and pop into the glass. For toppings, pick all of your favourite sweets… from rainbow laces, to chocolate smarties… this will be a huge hit with the kids!
Dale Farm's Favourite Ice Cream Sundae Combinations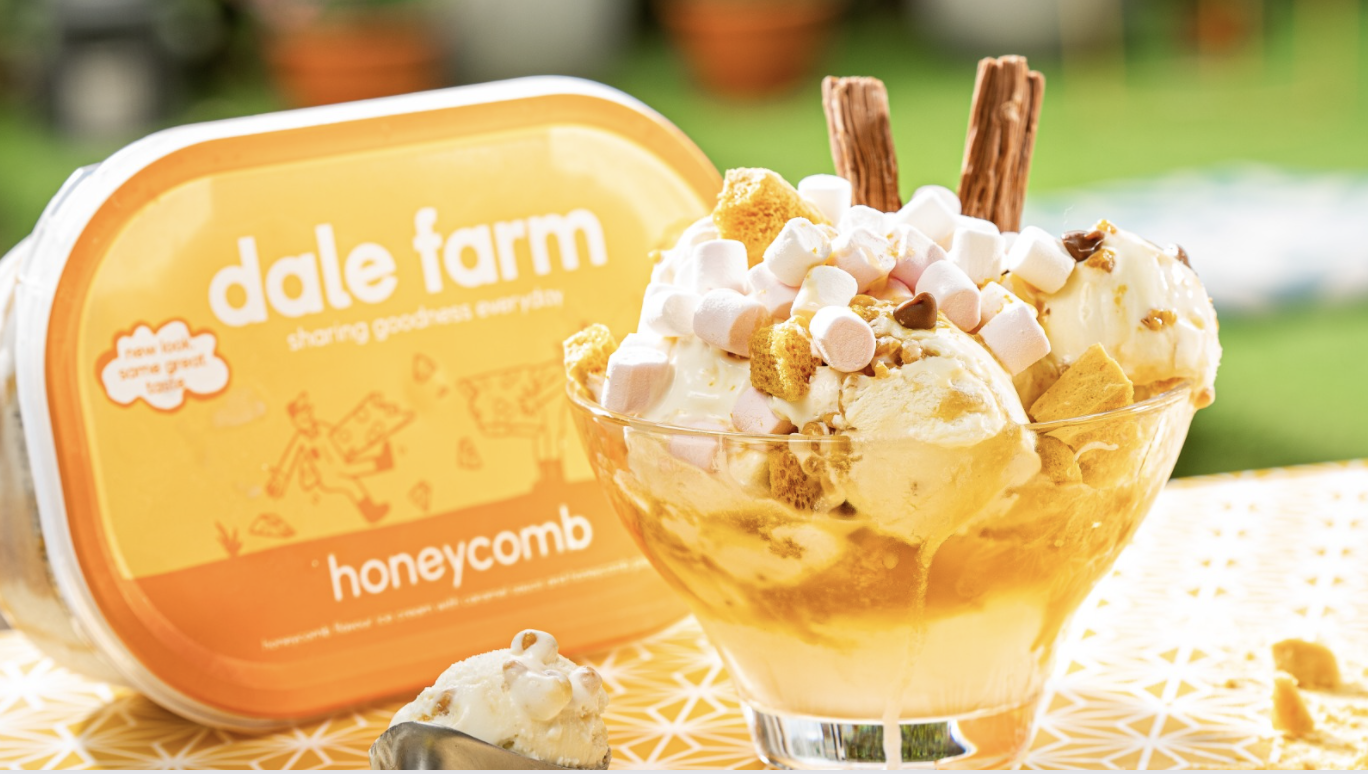 Ice cream sundaes can be as bold and as classic as you like. Our honeycomb ice cream is definitely a fan favourite - simply pair with a flake and some sauce, and you're onto a winner!
The best combinations work out from a central theme or flavour pairing. For our raspberry ripple, why not make an ice cream sundae inspired by raspberry cheesecake? All you need to do is scoop some of our delicious raspberry ripple ice cream into a sundae glass and pair with some fresh raspberries, crushed biscuit and a sweet mascarpone topping… delicious!
If you're someone with a sweet tooth, why not make the ultimate chocolate fudge sundae using our creamy vanilla ice cream? Top your ice cream sundae with chunks of chocolate brownies, fudge pieces and some chocolate fudge sauce. Top with some nuts and cream if you're feeling adventurous. Trust us, this isn't for the faint hearted.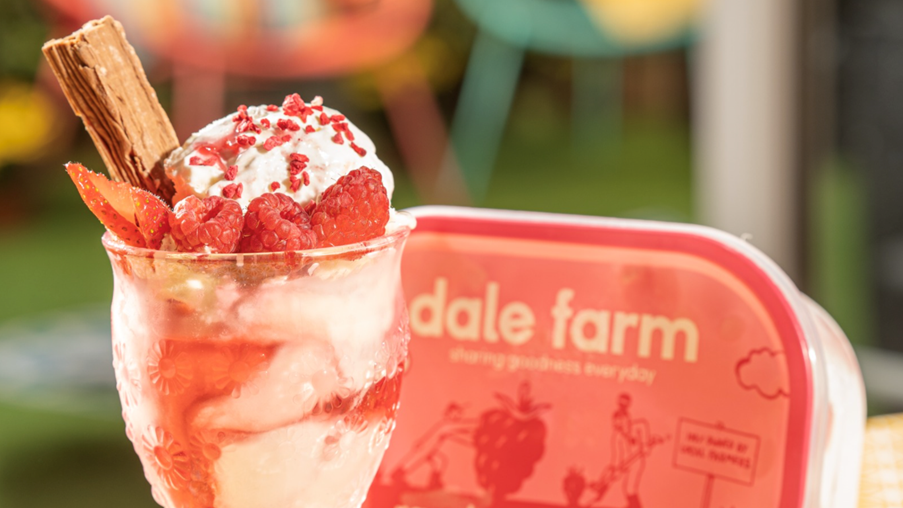 What Are The Best Ice Cream Sundae Toppings?
Ice cream sundae toppings have taken quite a leap away from the humble cream and cherry combo. We're now in the magical realms of decadent creations and outrageous taste inventions. Of course, given the popularity of social media, this should come as no surprise: compare an Instagrammed version of a traditional ice cream sundae to one that is jam-packed with cookie chunks, caramel chocolates, pralines, and other goodies. Aesthetically, the rivalry is fierce.
Sprinkles no longer quite cut it. Your dessert toppings should be exciting. For a Victoria sponge ice cream, slice up a vanilla sponge cake and top with strawberry and vanilla ice cream.
Perfection is difficult to define. However, you'll know you're on the right tracks if your ice cream sundae glass is filled to the brim with ice cream, sauces, cream and copious different toppings.
If you want to find out or go to ice cream sundae toppings, check out our latest TikTok video.