Are you looking for some fabulously festive Christmas recipe inspiration? We have you covered! Dale Farm is all about Sharing Goodness Everyday, so we have teamed up with some favourite Northern Irish bakers to share some of their Christmas recipes that you can recreate over the festive season.

Jill's Irish Cream and Chocolate Roulade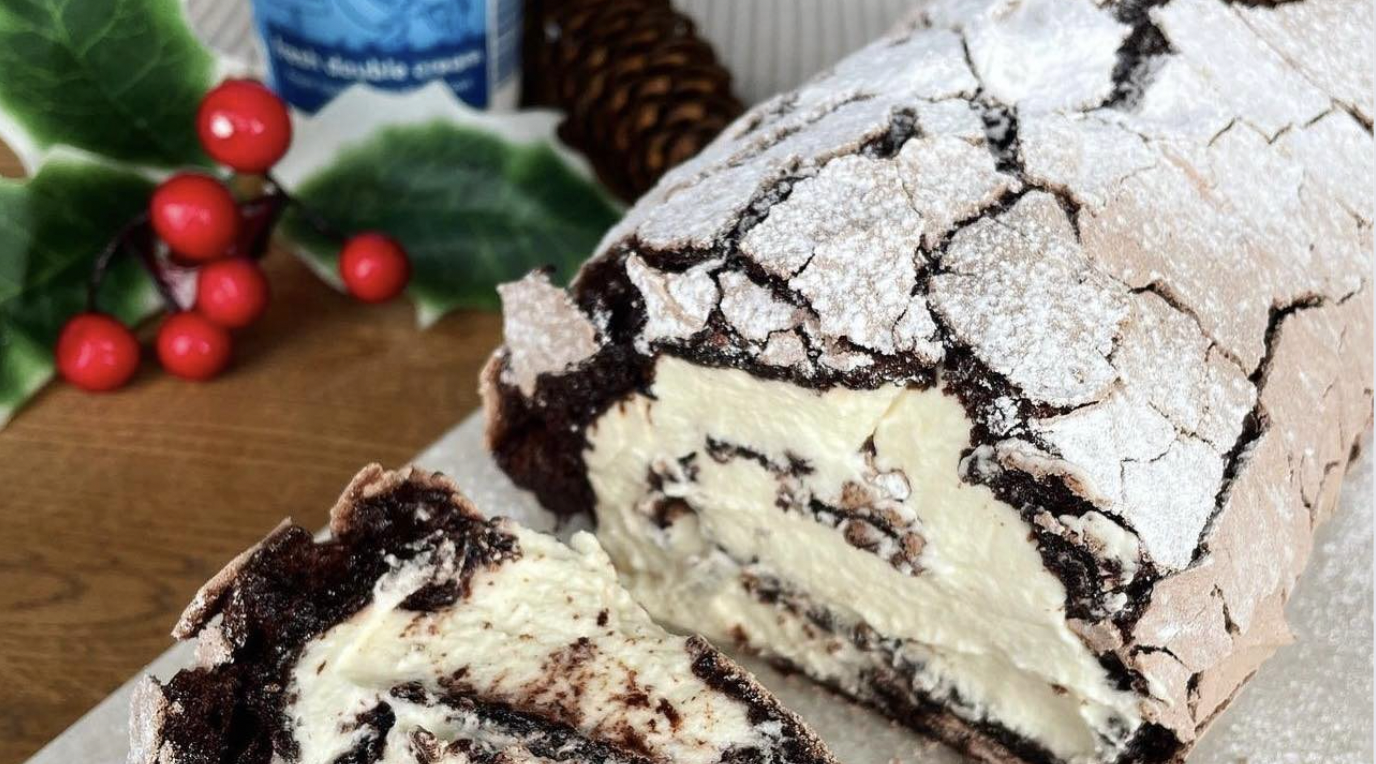 Jill's ideal Christmas dessert! Top tip: make the meringue part on Christmas Eve and then just fill and roll up on Christmas Day in 10 minutes! Easy peasy and sooo delicious.
Ingredients:
Serves 8
For the meringue:
For the filling:
Method:
Preheat oven to 160°C fan. Line a shallow 9x13 inch baking tin with baking paper.
Make sure your stand mixer bowl is completely clean and rub with a drop of white wine vinegar to remove any grease. Mix the egg whites using the whisk attachment until they hold stiff peaks (takes -5 mins). You could also use a large bowl and a hand mixer.
Add the caster sugar 1 tsp at a time, whisking until the mixture is thick and glossy.
Gently fold in the cornflour, vinegar and sifted cocoa powder with a spatula until just combined.
Pour into your tin. Bake for 20-23 minutes, until the top is crisp but squishes a bit when pressed. Cool in the tin. (You can leave it overnight and decorate it the next day if you like).
Whip the cream, vanilla extract and icing sugar until it just holds its shape. Fold through the Baileys gently.
Put a large piece of baking paper on your bench and tip the meringue onto it (with a short edge facing you). Peel off the baking paper gently).
Spread the Baileys cream on top. Scatter over the crushed chocolate flake.
Score a line about an inch from the short edge closest to you but be careful not to cut the whole way through. Then roll up the meringue using the baking paper to help to create a tight roll. Don't worry if it cracks a little - that's normal!
Transfer to a serving plate and dust with icing sugar to serve.
Bronagh's Buttermilk Turkey
Bronagh's delicious buttermilk turkey is perfect for Christmas day dinner with the whole family! Take a look at how you can make this mouthwatering dish.
Ingredients:
(For the buttermilk brine)
1 tsp freshly ground black pepper

2 tbsp salt

1 onion roughly chopped

2 bay leaves

Bunch of fresh thyme

2 crushed garlic cloves

1 handful chopped fresh rosemary

2 kg turkey breast approximately
(For cooking the turkey)
Method:
1. Place all the buttermilk brine ingredients into a zip-lock bag along with the turkey and place into the fridge for at least 24 hours.
2. After the brining has passed, remove the turkey from the bag.
3. Place the onion, bay leaves, carrot and celery onto the bottom of a roasting tray.
4. Place the turkey on top and rub the turkey all over with butter and seasoning.
5. Cover turkey loosely with foil and place into a 200*C oven.
6. Every 45 mins or so baste with the juices.
7. After 1.5 hours remove the foil and return to the oven until nicely browned.
8. To make the gravy, add the flour to the juices and vegetables in the tray. Stir well, add the wine and heat until thickened and strain to serve.
Jill's Christmas Pavlova Wreath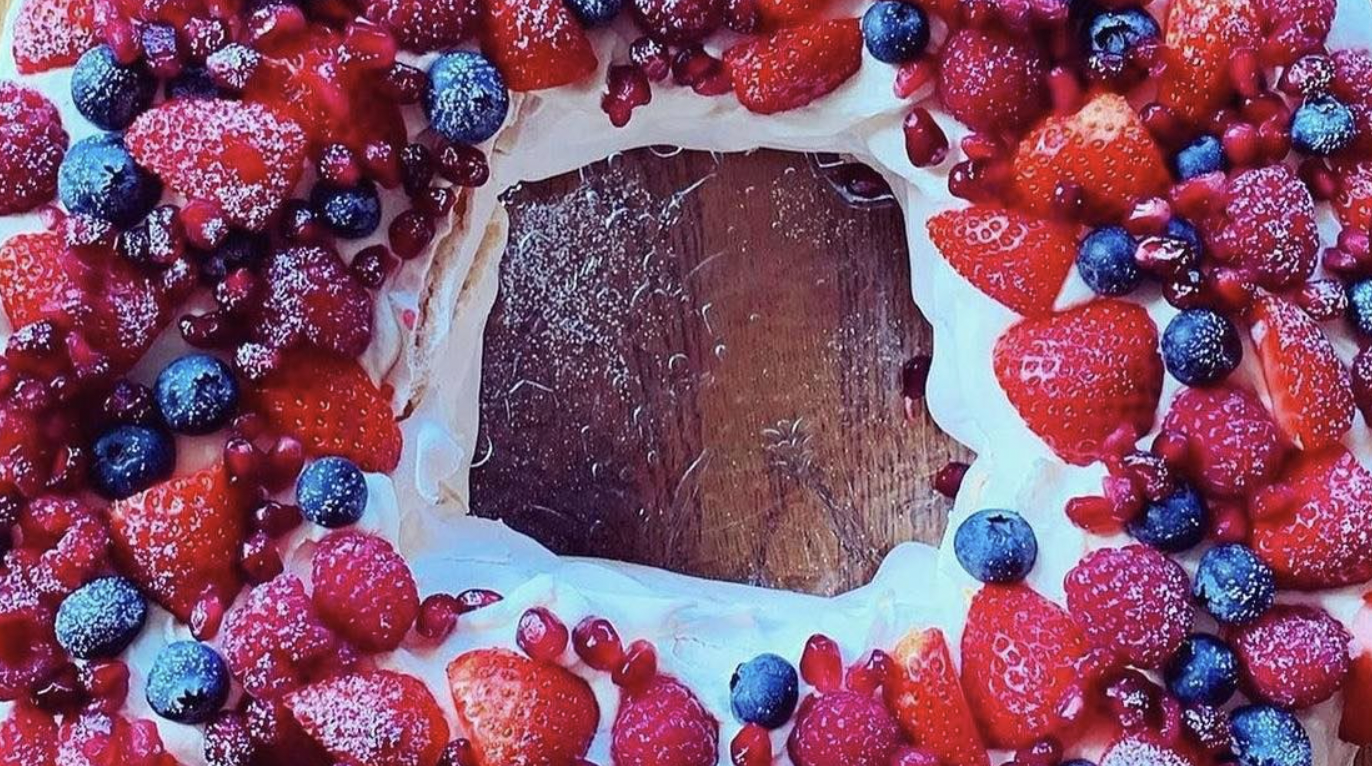 This pavlova is a tradition in Jill's house for Christmas Day dessert…not too heavy after a massive dinner but totally delicious! You can also fold 1-2 tablespoons of lemon curd through the cream for a lemon pavlova. You can make the pavlova base any time now and it will keep wrapped in cling film and foil in a cool dry place until Christmas. This makes it a perfect easy dessert for Christmas Day as all you'll have to do is whip the cream and decorate!
Ingredients:
Makes 1 large pavlova to feed 12-14
For the pavlova:
6 large egg whites

330g caster sugar

1 tsp cornflour

1 tsp white wine vinegar

1/2 tsp vanilla extract
For decorating:
3 tsp icing sugar, sifted

1 tsp vanilla extract

Berries of your choice. I used:

1 punnet strawberries, quartered

1 punnet blueberries

11/2 punnets raspberries

Handful of pomegranate seeds

Extra icing sugar, to serve
Method:
1. Preheat oven to 140C Fan. Line a large baking tray with baking paper. Draw a large circle using a large dinner plate as a guide (about 30cm in diameter), then draw around a smaller plate (around 15cm) in the middle of the larger circle to make a ring/wreath shape.
2. Make sure your bowl and whisk is totally clean. Rub your bowl with a little drop of white wine vinegar to remove any grease.
3. Put the egg whites into the bowl of a stand mixer and whisk on high speed until soft peaks form (be careful not to get any yolk in). Then add the sugar 1 tsp at a time, whisking until the meringue is stiff & glossy.
4. Mix the white wine vinegar and cornflour together in a small bowl, then add this to the whisked egg whites along with the vanilla and mix.
5. Dollop or pipe the meringue onto the ring drawn on the baking sheet using a tablespoon. Flatten the middle of the meringue slightly with a spoon, as the cream and fruit will be added into this later to decorate.
6. Place into the oven and reduce the temperature to 120C Fan. Bake for 60-75 minutes, until hard but still white in colour. Switch off the oven. leave the oven door shut and leave the pavlova inside for an hour or preferably overnight to cool and dry.
7. To assemble, whip the cream, vanilla extract and icing sugar together with a hand mixer or with a whisk until the cream holds its shape - be careful not to overwhip.
8. Spoon or pipe the cream into the hollow of the meringue. Then decorate with strawberries, raspberries, blueberries and pomegranate. Dust with icing sugar right before serving. Don't worry if your meringue is a bit cracked, the decoration will cover it up and it still tastes amazing! You can make the pavlova base any time and it will keep wrapped in cling film and foil in a cool dry place until Christmas. This makes it a perfect easy dessert for Christmas Day as all you'll have to do is whip the cream and decorate.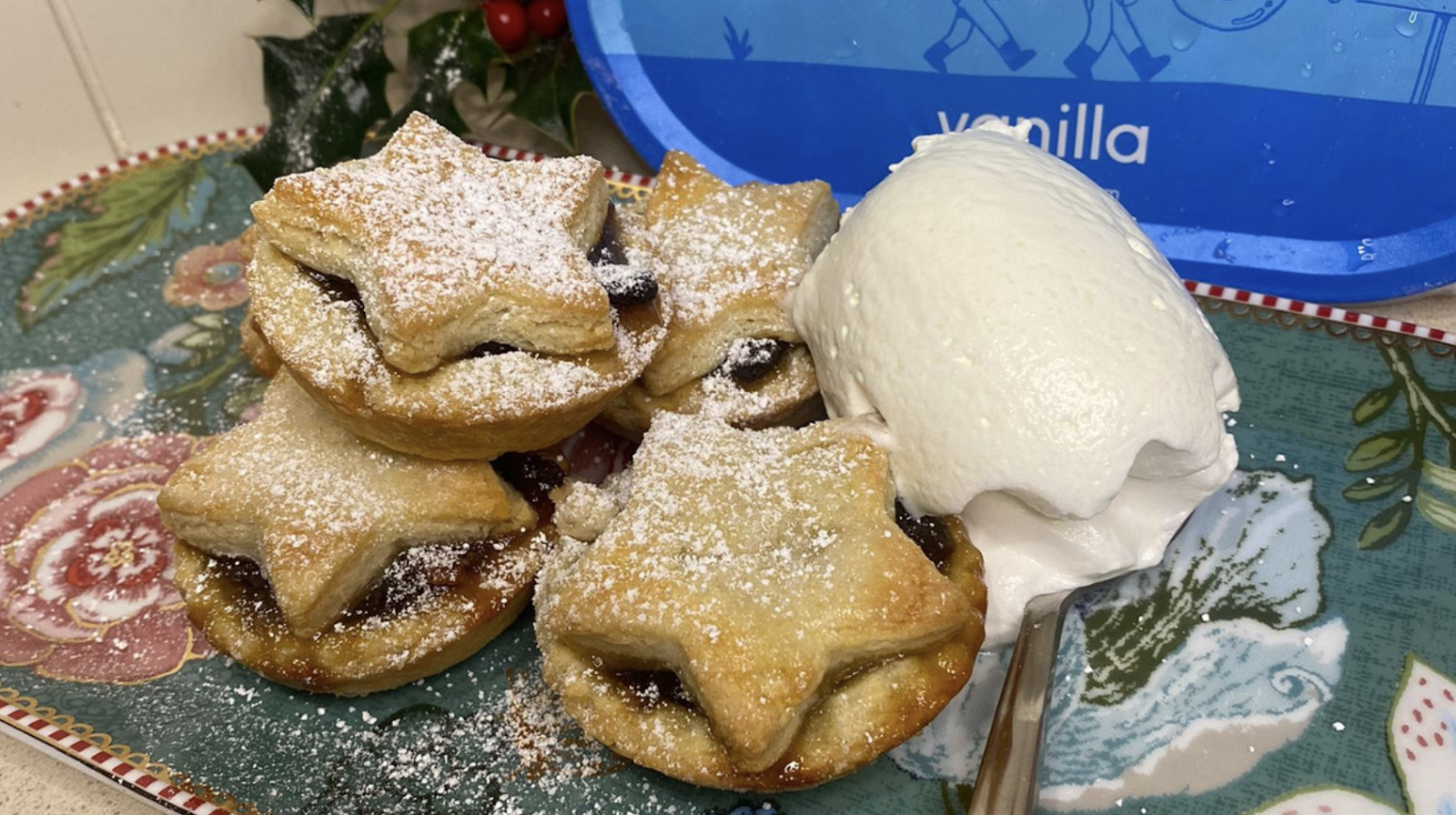 Bronagh's Christmas Mince Pies
Ingredients:
For the Pastry:
400g plain flour

100g cold butter cut into small pieces

100g cold lard or vegetable shortening cut into small pieces

1 tbsp caster sugar

3 medium eggs (2beaten for the pastry and one beaten for eggwash)

1 tbsp cold water

Extra caster sugar for sprinkling

Icing sugar for dusting
For the mincemeat filling:
400g shop bought or homemade mincemeat

Zest of one orange

One medium cooking apple grated.
To serve:
Makes approximately 24 mince pies

Method:
1. Preheat oven at 200*C (180*C fan)
2. Start off by making the pastry. Place the flour, butter and vegetable shortening or lard into a large bowl and begin to rub the fats into the flour with your fingertips lightly until it resembles breadcrumbs. This may also be done in a food processor. At this stage stir in the caster sugar.
3. Add the water to the 2 eggs, beat well and pour into the pastry crumbs. Gently bring the pastry together into a ball. At this stage, wrap the pastry in cling film and place into the fridge to rest.
4. Meanwhile make the mincemeat filling by placing the mincemeat into a bowl and adding the orange zest and grated apple. Stir well and set aside.
5. After 30 minutes remove the pastry from the fridge, unwrap and cut into 2 equal sized pieces. Using a rolling pin, on a floured surface, roll out one of the pastry halves until approximately slightly under a centimetre thick. Using a 6.5cm cutter cut out circles and place directly onto the holes of a greased cupcake/muffin baking tray. With the rest of the pastry, cut out small stars using a pastry cutter for the tops.
6. Place a teaspoon or so of the mincemeat mixture onto the pastry bases. Place a star on top of each of the mince pies, brush with beaten egg and sprinkle caster sugar on top.
7. Bake in the pre-heated oven at 200*C (fan 180*C) for around 20 minutes until golden brown on top.
8. Serve warm with a dusting of icing sugar and Dale Farm ice cream.
Have these festive favourites wet your appetite to get creative in the kitchen this December? Why not check out some of our other Christmas bakes here: