Last month, Dale Farm challenged local primary school children across the country to take our new mascot, SuperCow, on an ultimate adventure that brought her super powers to life. SuperCow is a true superhero with nutritious superpowers, fuelled by the dairy goodness of our delicious Dale Farm milk!
School pupils across Northern Ireland submitted 926 unique comic book entries through the post and online submissions during the three week competition, taking our very own SuperCow on all kinds of adventures, using her powers to do good. Across the country, 21 schools entered - but there could only be one winner!
The Winning Submissions
Primary 7 Rachel Broomfield from Lisnadill Primary School followed our top tips to a T; sharing goodness, getting creative, and thinking local! She submitted a fantastic comic book entry that saw SuperCow flying all across Northern Ireland, visiting every single school to tell them all about how amazing our local Dale Farm milk is, before going home to enjoy some Dale Farm ice cream in the lush green fields she calls home.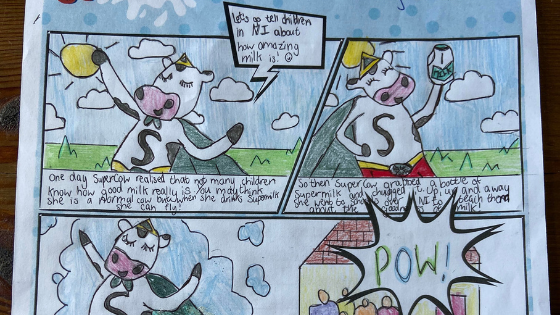 It was a close call, however! Primary 6 Jessica Lundy from St Mary's Primary School and Primary 5 Trevor Hutchinson from Tullygally Primary School were the runners up; both submitting their own legen-dairy comic book stories.
Jessica's amazing story saw SuperCow improve her pal Porky's horrible day with a Joker ice lolly - even though SuperCow and Pete Snodden preferred Choc Pops themselves!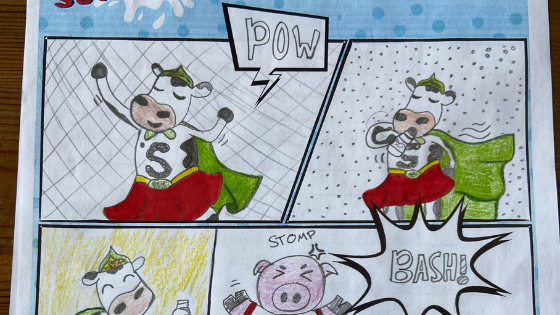 Trevors exciting story saw SuperCow working hard to provide children across the country with a daily glass of Dale Farm Milk to keep their teeth and bones healthy after Covid forced regular dental checks to be postponed during lockdown.
The Legen-dairy Prize
Rachel from Lisnadill Primary School's winning submission has secured the ultimate prize for her and her classmates. She was presented with a supersized framed copy of her fantastic comic strip by SuperCow herself and none other than Cool FM's Pete Snodden. As Campaign ambassador, Pete loved reading all of the stories and learned so much about the goodness of Dale Farm milk and dairy products.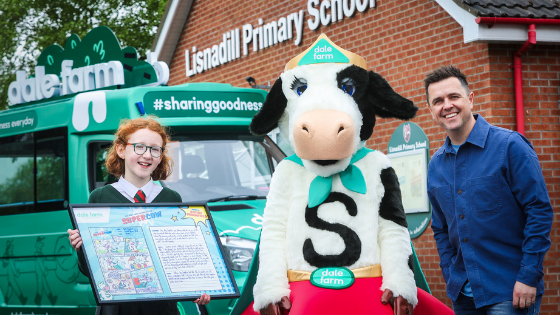 During the visit to Lisnadill Primary School, over 160 ice lollies were given out amongst their 137 pupils and the teaching staff - including Dale Farm favourites such as Choc Pop, Polly Pineapple and Jokers, as well as a range of Fruit Blasts and Sukies.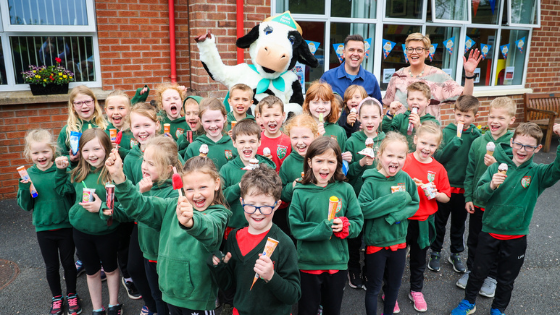 As well as this fantastic prize, Rachel and her class enjoyed an exciting day out at Streamvale Open Farm to visit our recently unveiled Dale Farm Milking Parlour. Rachel's class learned the story of how our Dale Farm milk gets from Farm to Fridge and even had a go at milking their cow Buttercup for themselves!
What Makes SuperCow's Milk So Special?
Dale Farm milk is special for so many reasons! It contains essential nutrients like Vitamin D, B2, B12, protein, Iodine & calcium that we all need to stay strong and healthy.
Dale Farm milk promotes improved health & well-being, healthy bones and teeth, and works to maintain muscle mass! Check out our teachers resources to find out more about the importance of milk and its benefits to our bodies.